We can assure you it is no coincidence that Nærøyfjord is featured on UNESCO's World Heritage List. A fjord cruise through this narrow and beautiful fjord will give you the memory of a lifetime!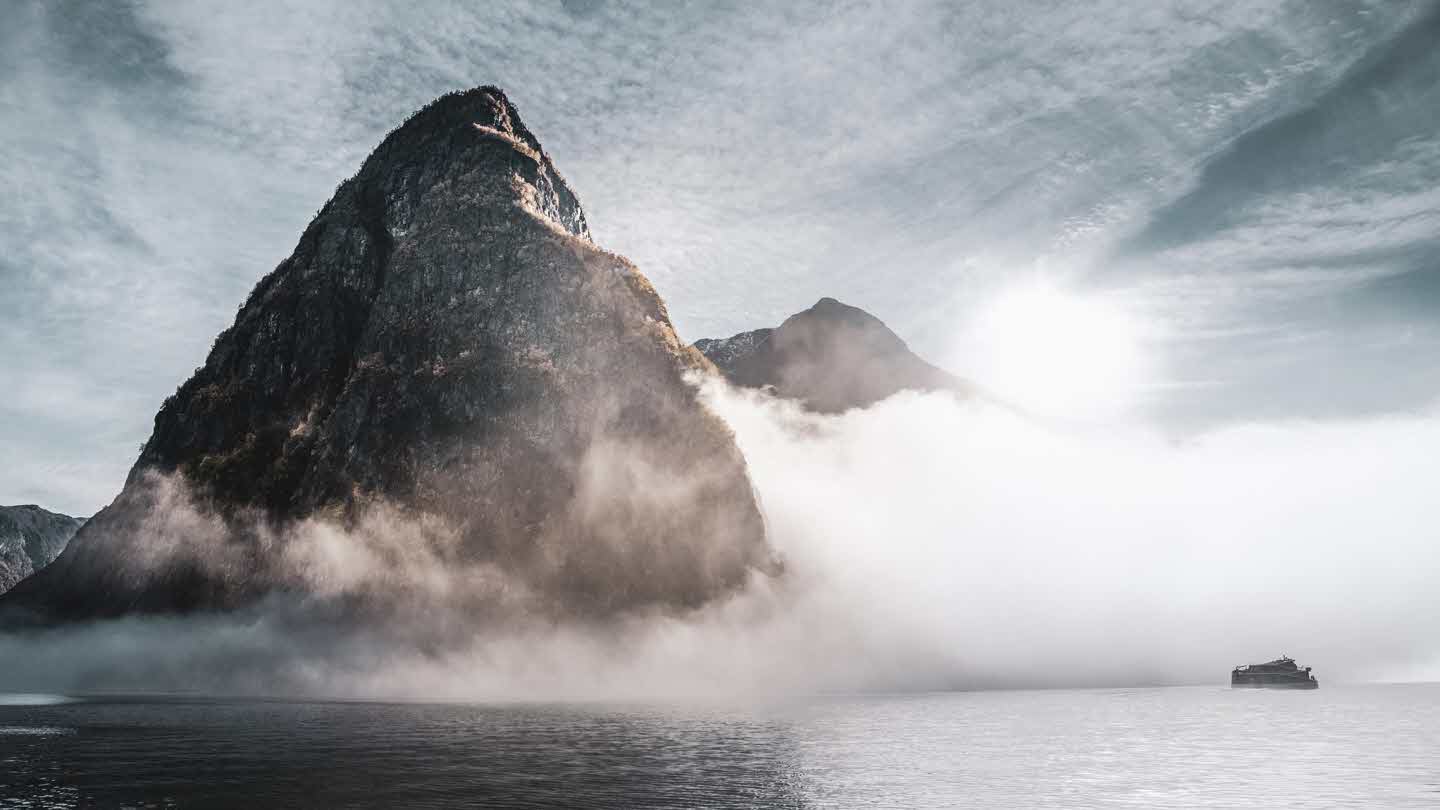 Seasons that colour the landscape
Regardless of the season, a cruise on the Nærøyfjord will be an unforgettable experience. Every season leaves its own unique touch on the fjord landscape: Frosty colours, white mountain peaks and ice-covered waterfalls during winter time; blooming deciduous trees and birds chirping during the spring; green trees and long, bright nights during the summer; and a golden terrain with fresh and clear air during the autumn. What is your favourite season?
Discover the spectacular UNESCO-listed fjord landscape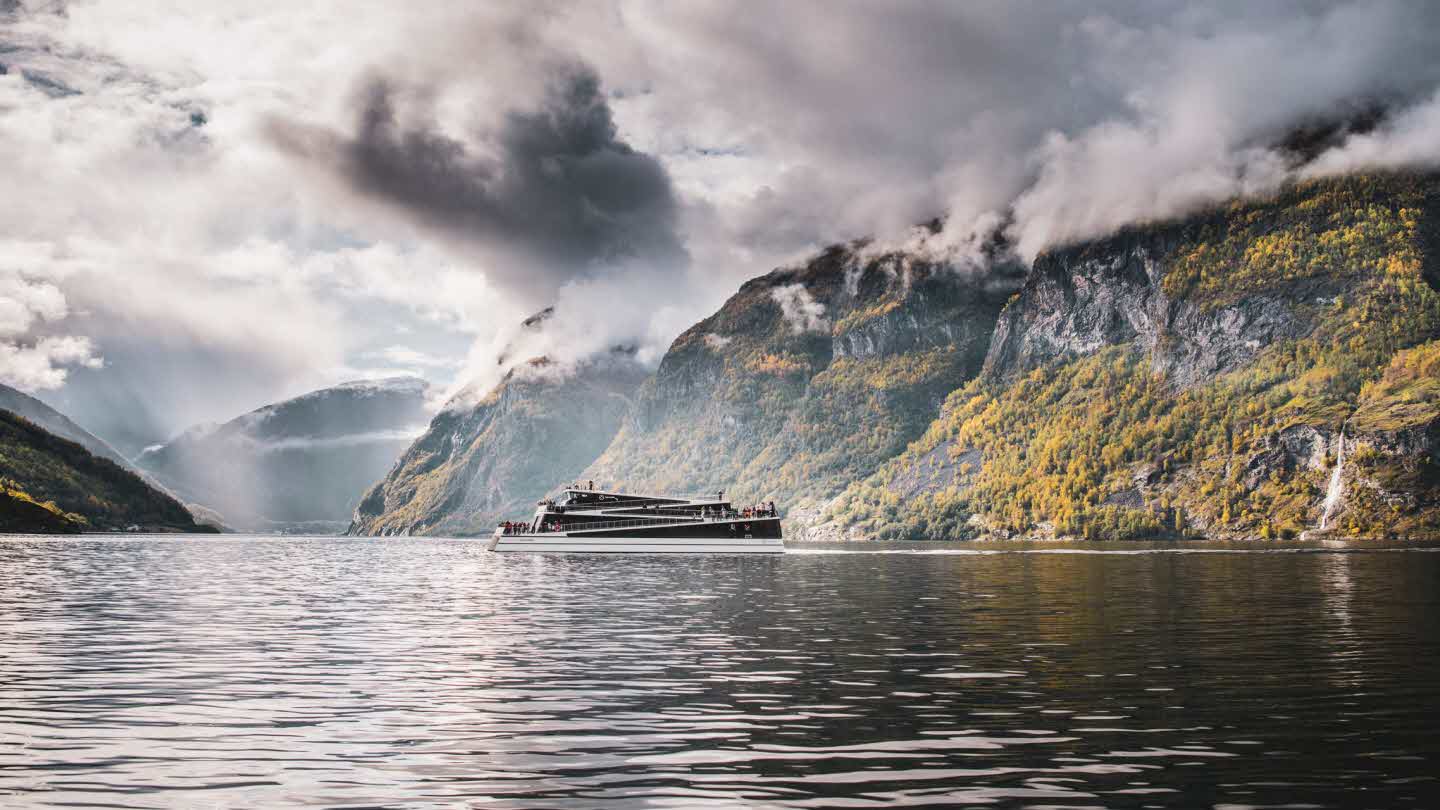 Vision & Future of the Fjords
The two vessels Vision and Future of the Fjords represent a brand-new standard in design and technology. They have been designed to maximise the tourist experience during any kind of weather, with large windows and walkways inspired by the winding trails of steep mountain terrain. Passengers are encouraged to go out on the top deck and enjoy a very different experience compared to traditional passenger vessels. Inside you will find Nordic inspired interior design offering a high level of comfort.
These are environmentally-friendly vessels: Vision is a hybrid vessel and Future is a fully-electric vessel. Both vessels sail along the most exposed and spectacular parts of the Nærøyfjord, running on battery power only and keeping to a speed of less than 10 knots.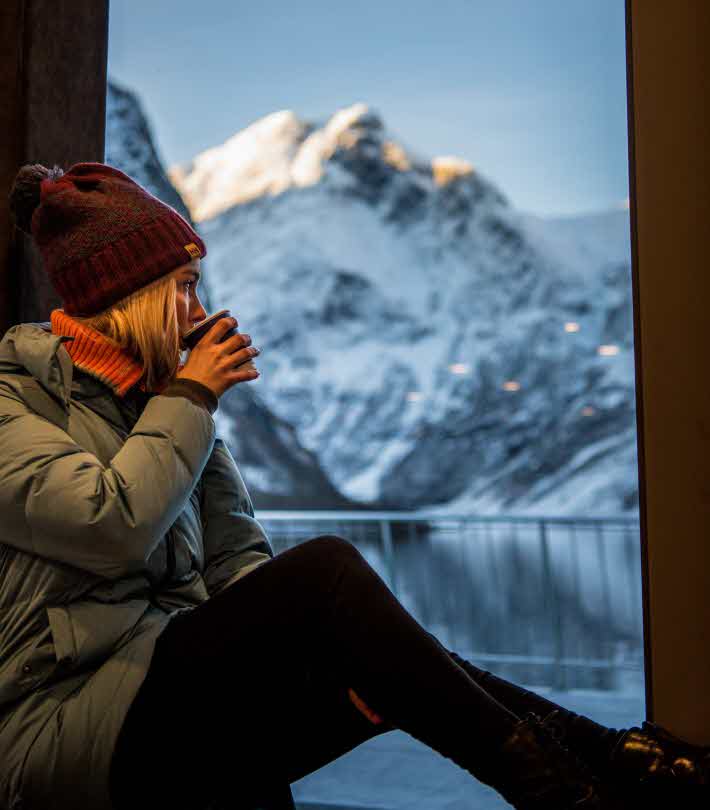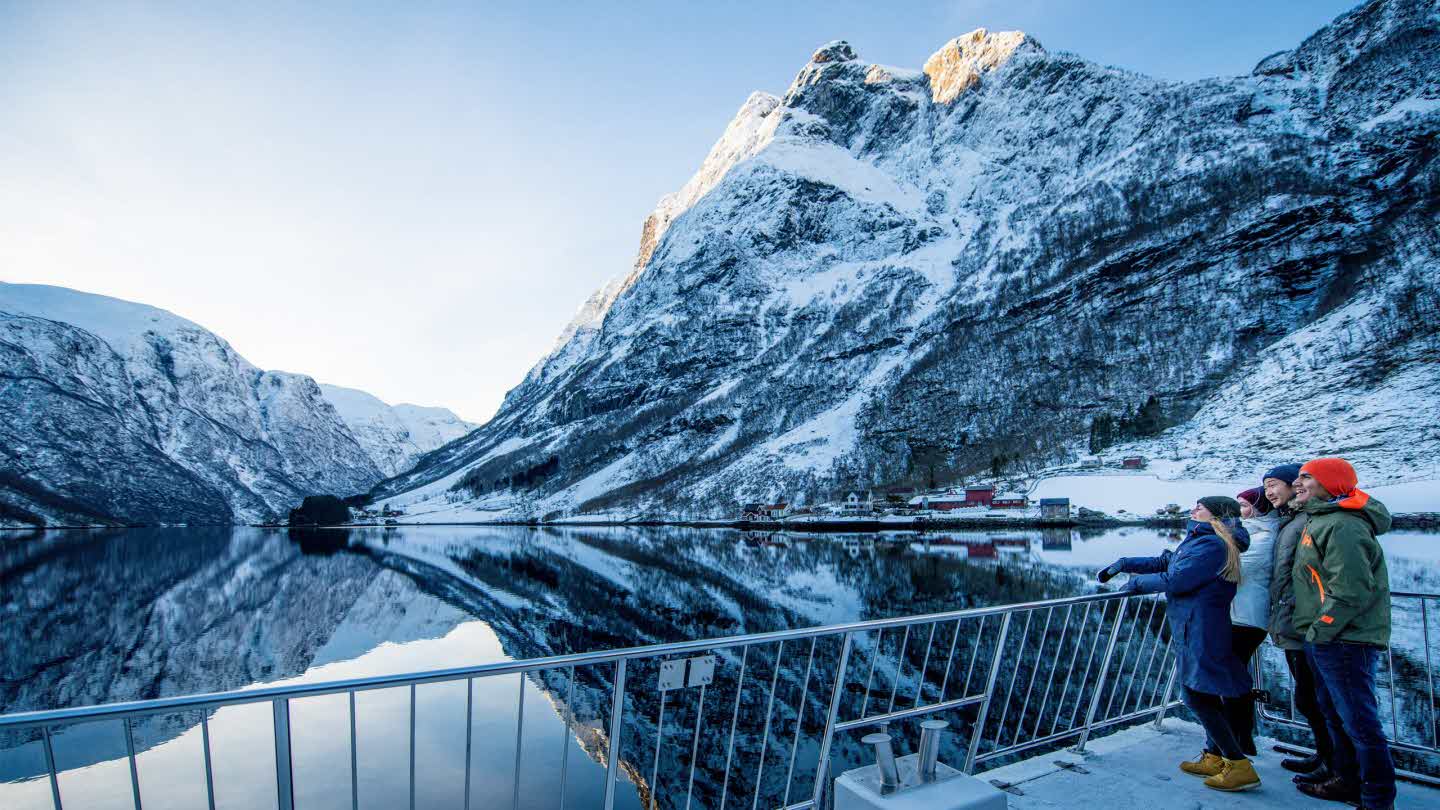 Sailing through Nærøyfjord
You can begin your fjord cruise from Flåm or Gudvangen. If you travel from Flåm, the vessel will begin its journey sailing through the idyllic Aurlandsfjord, which is also inscribed on the UNESCO World Heritage List. Furthermore, the boat continues through the narrow Nærøyfjord before arriving Gudvangen, innermost in the Nærøyfjord. The trip takes around two hours one way.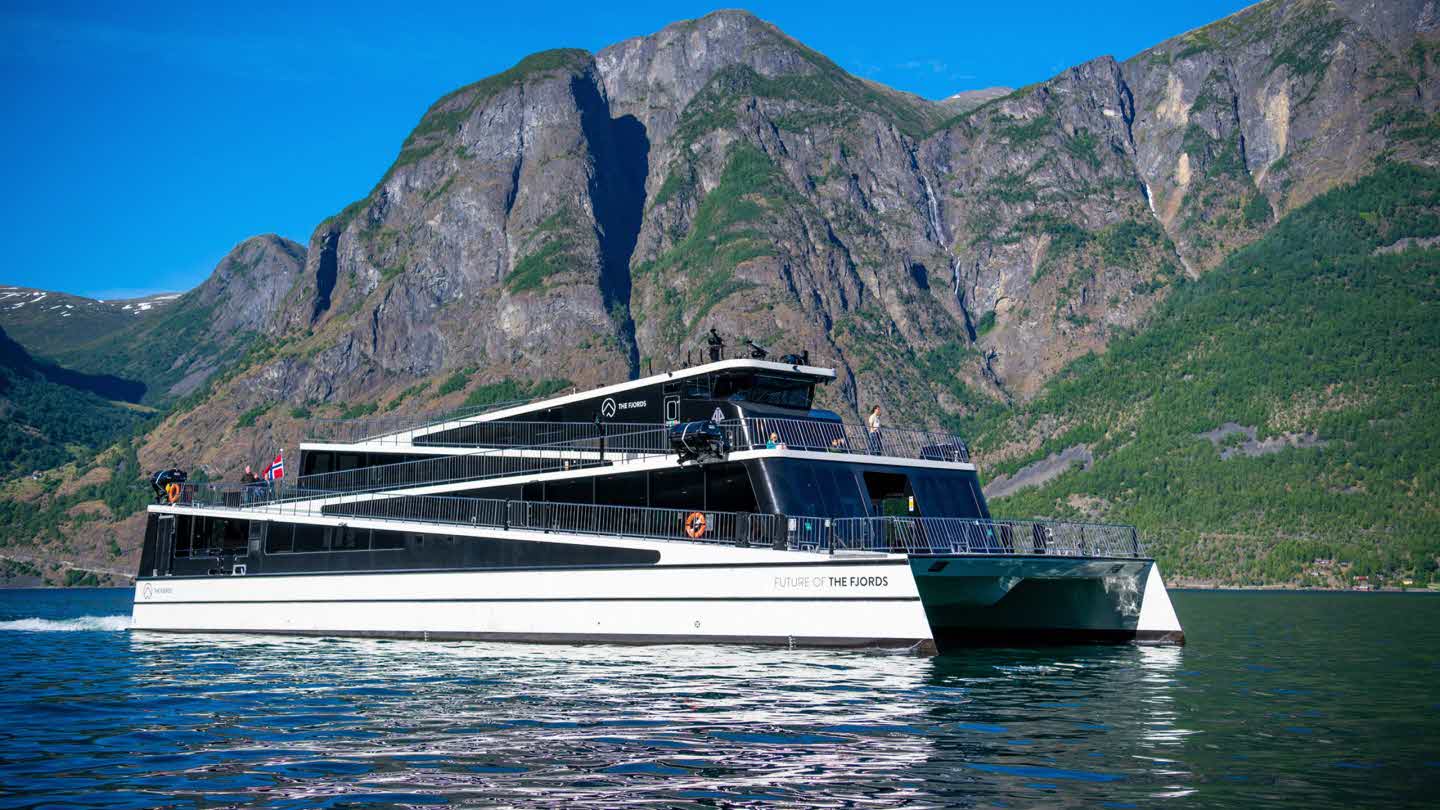 Premium Vessel (Hybrid & Fully Electric)
Dep. Flåm: 09.00, 11.00, 14.00 & 16.00
Dep. Gudvangen: 08.30, 11.30, 13.30 & 16.30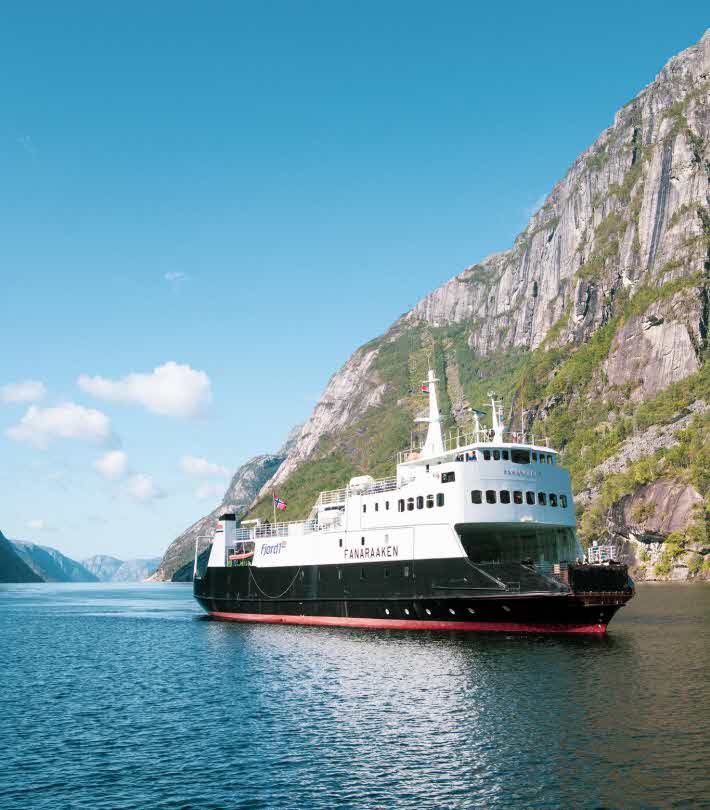 Classic Vessel
Dep. Flåm: 08.00 &13.30
Dep. Gudvangen: 10.30 &15.45
Timetable
Dep/Arr.: Flåm, Aurland*, Undredal*, Dyrdal*, Styvi* & Gudvangen. *These stops needs to be booked 15 minutes prior to departure time.
Two types of vessels operate Fjord Cruise Nærøyfjord;
Classic: passenger-only ferries.
Premium: new passenger vessels.
Fun facts
Viking graves on 'Holmo' outside the Bakka strait
In the Viking Age, the population was more than 600 people. Today it is less than 100.
"Gudvangen" – Place of the Gods
Powerful avalanches have the capacity to blow away windows and doors on Bakka
On board
To optimise your fjord experience,
– download the NAVIGUIDING app. Available on Nærøyfjord, Lysefjord and Geirangerfjord.
Food & beverages
The onboard café serves hot and cold drinks
Variety of pastries and sandwiches
Shuttle Bus
Book your shuttle bus return ticket from either Flåm or Gudvangen
*Please note that The Fjords DA reserves the right to alternate vessels in its fleet due to weather conditions, capacity and maintenance. Note that changes can occur at short notice. Other vessels might not have the same level of accessibility for wheelchair users and other people with accessibility aids. Information about our operating vessels can be obtained by contacting our call centre: (+47) 57 63 14 00