Flåm bike rental
Date: Tuesday 22 sep 2020 - Saturday 10 Oct 2020
Show map

Can we tempt you with a bike ride in beautiful Flåm?

Please show great caution when biking in Flåm. By the Station / dock area, we kindly ask you to roll your bike / kick-bike.
Bicycles are picked up in Flåm, between the station building and Fretheim Hotel, (yellow building). Bring your ticket / voucher and please meet 10 minutes before your rental time starts.
Show more
Book now - choose start date and product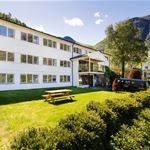 Pension
Distance: 198 meters
A lovely pention by the fjord with beautiful view.
Accomodation
Distance: 6.5 km
Hotel Aurlandsfjord is a relaxed fjord hotel in Aurland, the perfect hub experiencing the Flåm region attractions. Only 6 minutes walk to the pier embarking Fjord Cruise Nærøyfjord and bus stop connecting Stegastein Viewpoint and Flåm Railway
Hotel
Distance: 73 meters
In the center of Flåm, in the innermost part of the Sognefjord you'll find the beautiful Fretheim Hotel. There are always ghosts in historical hotels, so Fretheim Hotel has more to offer than just accomodation