Njardarheimr Viking Village entrance ticket
Date: Wednesday 28 oct 2020 - Wednesday 31 Mar 2021
Show map
Entrance Njardarheimr
If you visit Njardarheimr on your one, you can join in on guided tours (The Viking Experience),participate in axe trowing or archery, chat with the Vikings, try out some handcraft, or buy some Viking lunch in the food house.
Show more
Book now - choose start date and product
Hotel
Distance: 14.7 km
In the center of Flåm, in the innermost part of the Sognefjord you'll find the beautiful Fretheim Hotel. There are always ghosts in historical hotels, so Fretheim Hotel has more to offer than just accomodation
Accomodation
Distance: 19 km
Hotel Aurlandsfjord is a relaxed fjord hotel in Aurland, the perfect hub experiencing the Flåm region attractions. Only 6 minutes walk to the pier embarking Fjord Cruise Nærøyfjord and bus stop connecting Stegastein Viewpoint and Flåm Railway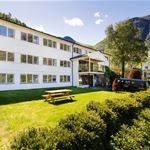 Pension
Distance: 14.9 km
A lovely pention by the fjord with beautiful view.