Flåm Zipline
Date: Tuesday 22 sep 2020 - Thursday 15 Oct 2020
Show map
Flåm Zipline, the longest Zipline in the Nordics 1381 meters long.
The Zipline starts in Vatnahalsen, close to The Bergen Railwayline & The Flåm Railway, and ends in Kårdal in the Flåm valley.

We strongly recommend a stop at Rallarrosa Mountain Cheese farm. Spend some time here sharing your experience and wind down with some great cheese, snacks, light meals and drinks taking in the stunning scenery.
When making the reservation for the Zipline, you can also book a bicycle for the trip down to Flåm. Your luggage or bike will be shipped down on a separate zipline. Distance to Flåm is 16 kilometers in easy terrain (gravel/asphalt road).

Bikes: To be delivered at quay towards Flåm Marina by 20:00(8PM).
Show more
Book now - choose start date and product
Hotel
Distance: 13.2 km
In the center of Flåm, in the innermost part of the Sognefjord you'll find the beautiful Fretheim Hotel. There are always ghosts in historical hotels, so Fretheim Hotel has more to offer than just accomodation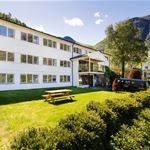 Pension
Distance: 13.1 km
A lovely pention by the fjord with beautiful view.
Accomodation
Distance: 94 meters
Welcome to Vatnahalsen – an all year destination in the heartland of the Norwegian natural and cultural heritage. Ever since 1896, Vatnahalsen has been a popular destination for Norwegians and Europeans in search of a mountain sanctuary. It's a great base, whether you want to enjoy traditional food and scenic views, go skiing, or explore Nærøyfjorden, one of UNESCO's World Heritage sites. All transport to and from Vatnahalsen Hotel is by train.