Enjoy this one-day guided soft adventure package in spectacular UNESCO listed Naeroyfjord, where we kayak in the narrow part of the fjord, hike the old Royal post route in 'glamp' style and sail the Nærøyfjord from Flåm to Dyrdal aboard the environmentally friendly vessel Future of The Fjords. Stay at one of our great accommodations and let's make ripples in the fjord together.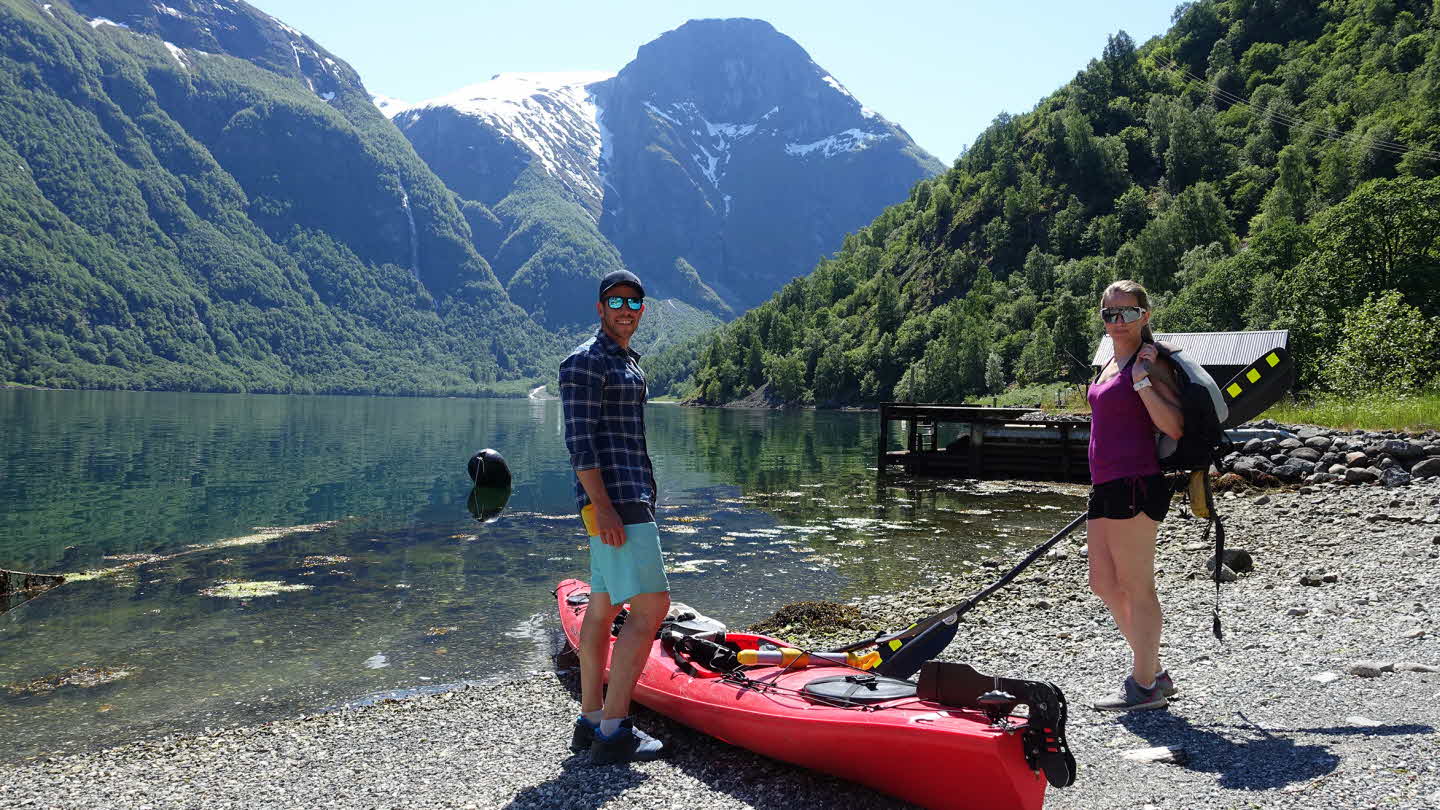 Nærøyfjord Kayak, Hike & Cruise
Tentative itinerary:
09:00 Meet your Guide in Flåm
09.30 Fjord Cruise Flåm – Dyrdal incl. storytelling and tour instruction
10:50 Arrival Dyrdal
11:00 Equipment, technique and safety briefing
11:30 Start paddeling (Dyrdal-Styvi-Odnes)
12:30 Lunch Break Odnes
13:30 Paddling
14:30 Hiking and Storytelling the Royal post route (approx 2 hours) Odnes - Bleiklindi
16:00 Paddeling back to Dyrdal
17:00 Equipment wrap-up, opt. Village tour Dyrdal and Snack
18:10 Fjord Cruise Dyrdal – Flåm
19:30 Arrival Flåm and fare-well
Book now
Period: 01.06.-29.08.2021
Package includes:
Fjord Cruise Nærøyfjord return from Flåm-Dyrdal 09:30, back in Flåm 19:30
Kayak incl. euipment and guide/training
Guide: Hiking and storytelling, old Royal post route (5km). Level: Easy
Lunch amd late afternoon snack
Start/finish: Flåm Harbour Pier 1 or Aurland quay
Time: 09:30-19:30
Duration: 10,5 hours
PAX: Min/Max 2-8 persons
Children: Max one child pr. adult, age limit 6-15 years From NOK 2499,-
Group activity: Risk reducing measures corona.pdf
Please notice! Booking request must be submitted before 12.00 pm the day before.
Маршрут для пешей прогулки
От 2999,- NOK
- we leave no trace, only ripples in the water -*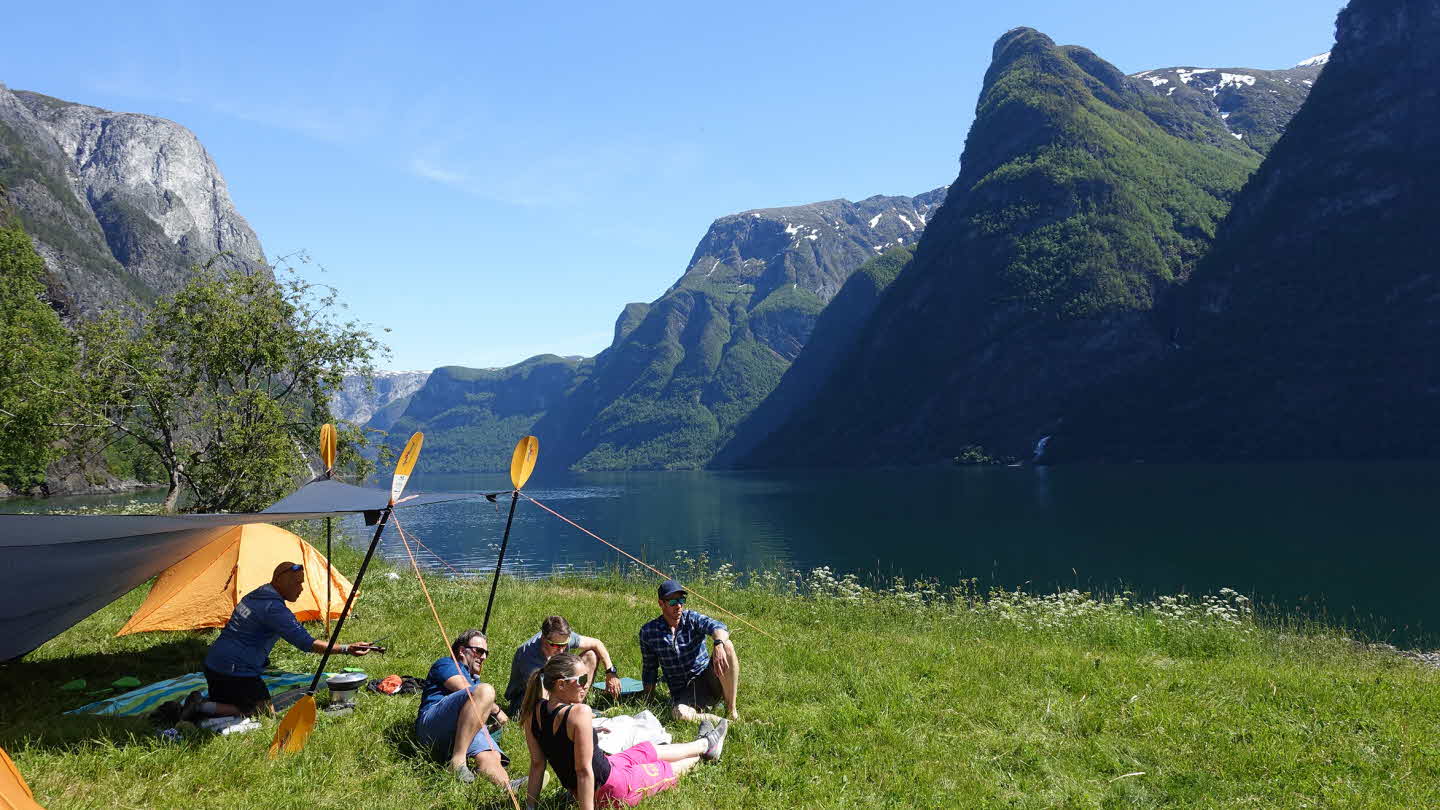 Hiking and storytelling
Arriving with kayak at Odnes we set up a camp and indulge ourselves with lunch, stretching our legs and share the serene surroundings with refreshing drinks. We continue hiking along the parts of the old Royal post route, which was used in winter time from the mid-1600s to transport the mail to Styvi when there was unsafe ice on the fjord. From there the farmers rowed the mail to Lærdalsøyri. In 1858 the steamboats took over the post route. Today the road is an easy walk of approx. 5 km one way from Styvi to Bleiklindi.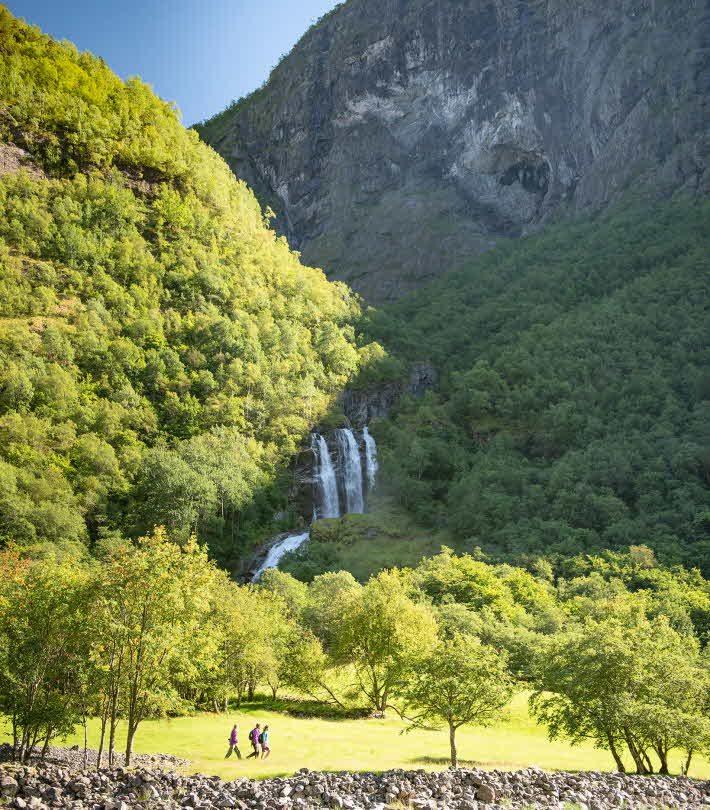 *NJORD – 'Seakayak and wilderness adventures'
This a partnership with NJORD – 'Seakayak and wilderness adventures' that have been guiding people in the outdoors since 1999. With base in Flåm they have been given thousands of customers a great day out – setting the standard for adventure kayaking in the beautiful fjords of Norway.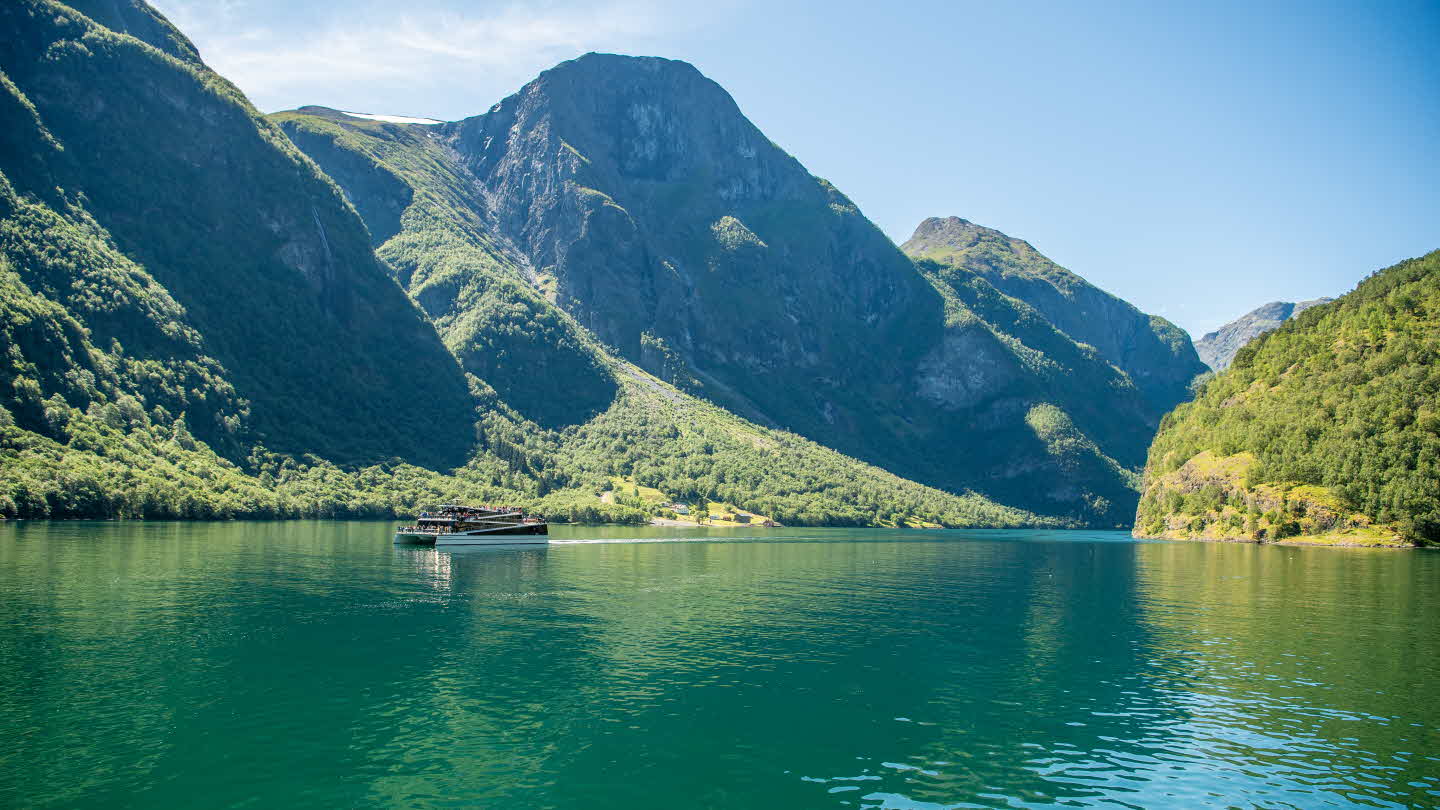 Fjord Cruise in silence
The two vessels Future and Legacy of The Fjords represent a brand-new standard in design and technology. They have been designed to maximise the tourist experience during any kind of weather, with large windows and walkways inspired by the winding trails of steep mountain terrain. Passengers are encouraged to go out on the top deck and enjoy a very different experience compared to traditional passenger vessels. Inside you will find Nordic inspired interior design offering a high level of comfort.
These are environmentally friendly vessels, both fully-electric sailing along the most exposed and spectacular parts of the Nærøyfjord, running on battery power only and keeping to a speed of less than 10 knots.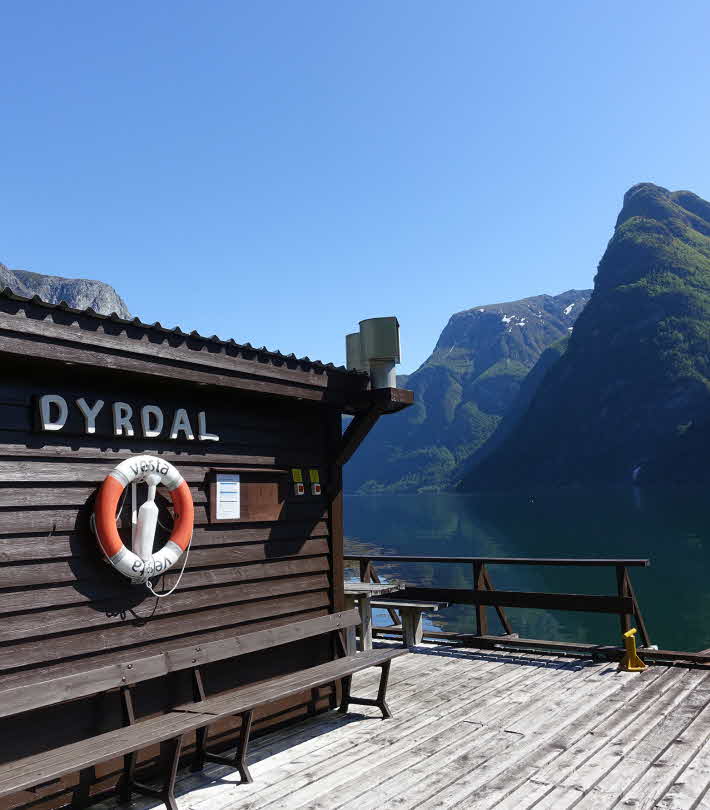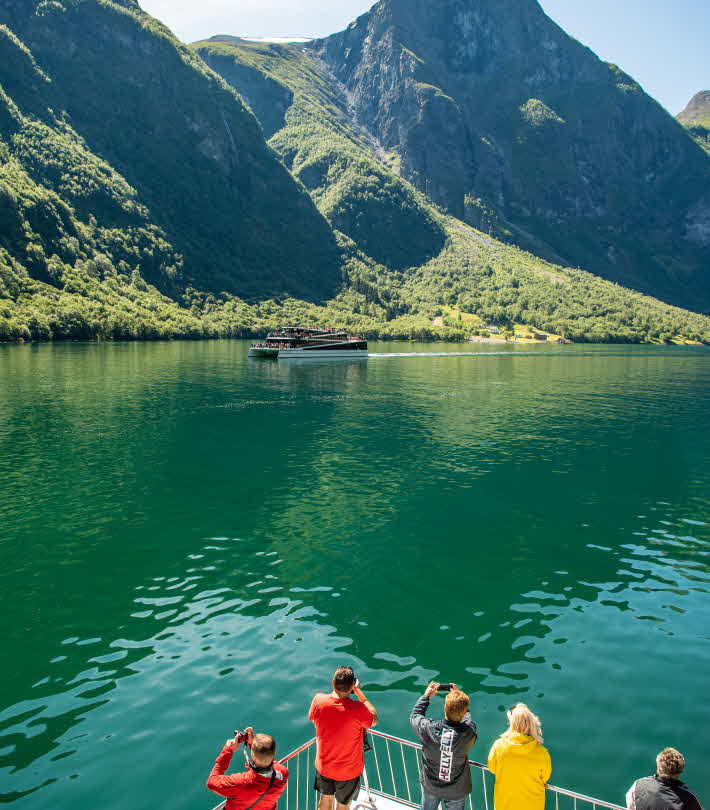 Practical information
Health and fitness
Though our regular scheduled tours are not strenuous, we highly recommend that you arrange personal travel/ medical insurance.
Please advise your guide if you have any physical conditions that may affect your enjoyment of our kayak tour or hike.
As we have a guide ratio of 1 guide per 8 guests, we are normally able to tailor the pace of the tour which enables you to paddle at your own pace. If you are after strenuous exercise, please be aware that our regular tours are not meant to be this, you will be asked to adjust your speed to the other clients and the guides pace.
*Trademark: In partnership with NJORD - Seaykayak and wilderness adventures
What should I bring for the tour?
Please bring large bottle of drinking water, sunglasses, sunscreen, a cap/hat and camera. We have waterproof camera boxes & bags to borrow, you will be able to borrow a paddling jacket from us.
Do not forget to be prepared for cold and rainy weather so please dress for the weather, we advise to carry a wind & waterproof jacket + a warm sweater in your daypack even on nice days.
As the tour includes a easy hike, please wear good outdoors shoes. During the hike there may be a chance for a swim in the fjord so bring swimwear & a towel on sunny days.
Do you use medication ? Please bring essential personal remedies needed for asthma, allergies, heart conditions etc.
Please do not bring
- Cup, plate, cutlery
- Toilet paper
- Flip flop sandals or high heeled shoes
We provide:
Kayaks and all kayaking gear
Lunch, tea and cofee & a snack on the way
First aid kit
Trained guide with great stories and a huge smile
Where can I stay in Flåm?
In Flåm and Aurland we recommend staying at one of our comfortable accommodations: The historical Fretheim Hotel in Flåm or our new 'boutique style' Hotel Aurlandsfjord in Aurland. If you choose to stay in Aurland you can embark/disembark the fjordcruise from there, only 5 min walk from Hotel Aurlandsfjord.
Notice! The trip can be cancelled due to bad weather or other unforeseen circumstances or if there is not enough participants.